Welcome to My Website
I'm so glad you're here. I hope you'll find helpful information. I love to write and I love to help others learn more about writing compelling fiction. I created this website to help people realize their dreams of becoming an author.
I've always loved to write and spent time writing and creating books as a kid (including my own Encyclopedia Brown book). Not that many years ago (okay, some years ago), I decided that I wanted to write stories and actually share them with others (i.e. be published). But, I had a problem. I was a very busy mom. I kept thinking I'd write a book after I stopped having babies, but I kept having those babies. So I decided I had to figure out how to write stories between changing diapers, feeding babies, running after toddlers, dealing with kids in school, activities, laundry, cooking, and cleaning the house.
I published my first book, a children's picture book, in 2003. My first novel was published in 2008. I've since published 10+ books. You can check out my most recent books here.
I've served in various positions, including on the conference committee for a nationally recognized writing guild as well as on the board of directors for a writing organization and as a volunteer for SCBWI. I have also been a conference presenter, writing bootcamp director, writing mentor, and a judge for writing contests. I have written for online sites as well as print publications and I have taught classes on writing fiction at schools, writing conferences, and community venues.
I've learned so much over the years (and am constantly learning) and I want to share that with you and help you achieve your writing dreams! I hope you'll find come back and visit here often.
A Little More About Me
I was born and raised in Santa Barbara, CA. After I graduated from high school, I went to college where I met, and married, my sweetheart, Del.
Del and I are the sometimes frazzled, but always grateful, parents of ten wildly-creative and multi-talented children. We've added sons-in-law and daughters-in-law to the family  as well as perfect-in-every-way grandchildren. Family get-togethers are always filled with lots of fun!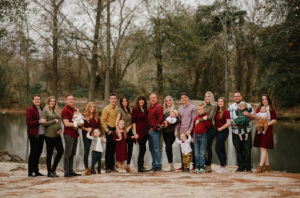 After living in rural Colorado with my family and horses, cows, rabbits, goats, dog, cats, and miniature donkeys, we relocated to Houston, Texas where I spend the summer in the pool trying to avoid the heat and humidity.
I am the author of a children's picture book, a writing resource book, a children's chapter book, novels, novellas, and numerous children's articles and stories for both print and online magazines. I also blog at www.raisingtenkids.com.
When I'm not writing, I love to swim in the ocean, knit and crochet, redecorate my house, eat Dove dark chocolate, and dance to disco music while I clean the house.
All of my books are available on Amazon. You can see them here: Rebecca Talley Books
You can connect with me on Facebook, Twitter, and Pinterest.