Free Book: Best Kind of Love
You can receive Best Kind of Love: A Reunion Romance Novella for FREE when you join Rebecca's Reader News. Click here to join.
"Loved it! Good, good read from the first page to last! You won't be disappointed. Takes you back to your high school days!" RuthAnn
"I loved this story….always, any story that has a happily ever after, is my kind of book….this author especially knows how to bring things together so the heart is happy and satisfied…." Bobbie
"I really enjoyed reading this sweet romance. A reunion leads to love. The characters are so good. Wonderful book." BeckyB
"Great story. I loved the characters and the writing style. I'll be looking for more from Rebecca Talley." Shelley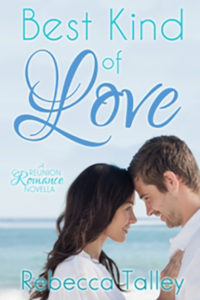 Best Kind of Love: A Reunion Romance Novella
Brynn Sawyer is a successful project manager in Houston. When her best friend from high school convinces Brynn to attend their ten-year reunion, Brynn hopes she'll have the chance to reconnect with Troy Richards, the guy who stole her heart back in middle school.
Craig Dawson, an attorney in San Diego, is in a relationship that's going nowhere and wonders why he can't seem to commit. When he sees Brynn at their reunion, he thinks he might finally understand why. The only problem—she's still infatuated with Troy what's-his-name.
Will Brynn find the love she seeks with Troy, or will she realize the best kind of love has always been right in front of her?
Click here to join and receive your complimentary copy of Best Kind of Love.