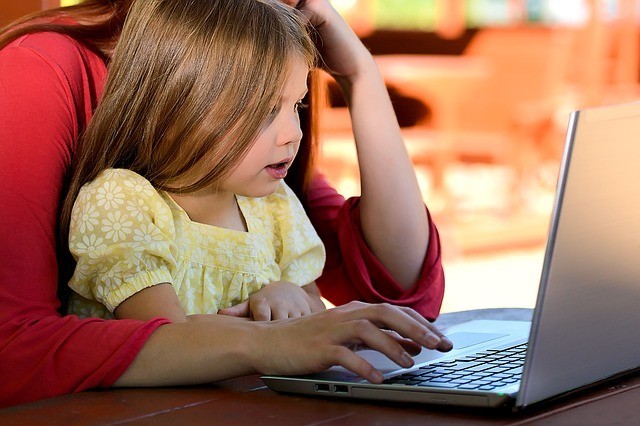 I was once asked by an interviewer if I listened to music while I write. The answer is: not on purpose.
Does that mean I write only when there's silence? Ha. Far from it.
I write to PJ Masks, Goosebumps, nursery rhymes, Rascal Flatts, Tae Bo, radio stations, countless kid videos, bickering kids, teenage drama, and grandkids squealing.
The truth is, my house is never quiet–not even in the middle of the night. Between kids who talk in their sleep, yelping dogs outside my window, and city sounds (like sirens), there always seems to be commotion.
I write to life.

Learn to Focus
I've had to learn to focus. In fact, sometimes I focus so well when I'm in the groove of a story, that my kids stand at my computer and chant my name until I look up. I suppose that's a bad thing, yet in my house, it's been a coping mechanism to get things done.
I'd never balance my checkbook, pay bills, write emails, read, clean my house, fold laundry, cook, or write if my family's organized chaos constantly distracted me.
Learning to focus is a skill. Like any skill, it takes time and effort to learn how to do it. These steps help me:
Find a comfortable spot
Set my phone and water bottle nearby
Set a goal (write for 30 minutes/write 500 words/edit one chapter)
Concentrate only on that goal
Use noise canceling headphones if I need to (I don't, but the option is there if I need to)
Transport myself mentally into the story
Think only about the story (or writing project)
Give myself a break when I reach my goal (if I want to)
Concentrating or focusing on writing for a period of time takes practice. Try focusing for ten minutes and then increase that to your goal time.
For me, if I can get a solid 30 minutes at a time, I can make serious headway on my writing project.

What Really Needs My Attention?
There are times when something comes up that supersedes the writing project I'm working on. Through practice, I've developed a keen ability to pick up on that which truly needs my attention.
Even if I'm in the "zone" while writing, I can hear a child crying, respond to an important request, or take care of an immediate need. I can even answer the phone if I need to.
I think all of us who write with children still at home have this innate ability. I call it a mom writer's 6th sense: the ability to discern between immediate needs and that which can wait until after a chapter (or writing goal) is finished.
It's very important that immediate needs are attended to and not ignored, but, with enough practice, you'll be able to tell if you need to stop writing and help a child or respond to a call. After you finish taking care of something, you can return and, once again, focus on your writing.

Make Writing a Priority
Since I have such a large family that always seems to be in motion, I've learned that if I want to write, I have to make it all work. I've honed my focus skills and I've learned to use time in the shower, time driving my kids to appointments and extracurricular activities, and time waiting at the dentist or doctor to think through my story so that when I do have a minute at the computer, I can use it effectively.
I've written snippets of dialogue on my phone, ideas for descriptions on the back of a deposit slip, and made notes about a character on my grocery list. I do this because writing is a priority.
Some people love to garden or sew or make jewelry. I used to spend time knitting, crocheting, and making crafts, but I learned that if I wanted to write, I had to make it a top priority above the other things I enjoyed.
We make time for that which is important to us. I will admit that I almost always set aside writing for family time. My family is more important to me than writing, so that's where I spend the bulk of my time. But instead of watching TV or going shopping or surfing the internet, I'll write.
I've gotten up early in the morning or skipped lunch to write. I hear people say they don't have enough time to write, but they do other hobbies. To me, that means those other hobbies are more important than writing.
Each of us has to determine where we'll spend our time. We all have the same 24 hours in a day. We just need to decide how we'll spend those 24 hours.
Use Available Time
If you look at your day, you'll probably find bits of time that you could devote to writing. I take my laptop with me to all my kids' orthodontist, dentist, doctor, and therapy appointments. My youngest son has speech therapy every week. During that appointment, I write. And I use my focusing skills while I'm there because there are so many kids in the waiting area and people are constantly coming in and out of the office.
Sometimes I use "downtime" to just think and work out plot problems. I think about my stories while I'm doing dishes, out walking around my neighborhood, or doing yard work. I also think about my stories before I go to sleep at night and write down any ideas in a notebook.
Thinking about my stories when I'm not able to actually get any "writing" time helps me to be more productive and better able to focus when I do have time to work on my laptop.

Writing To Life
I don't write to music, I write to life.
Learning to focus, determining what really needs my attention, making writing a priority, and using available time helps me to get as much writing done as I can. Admittedly, there are writers who are much more productive than I am and can spend much more time on writing than I can. And that's okay.
Everyone needs to find that balance. But, when I do have that time to write, being able to focus and concentrate on my story helps me get the most out of my time.
***Have you received my FREE course: Become an Idea Factory? You can click here to learn more about it. It's a 7-day course delivered right to your inbox that helps you learn how to generate ideas. I know these techniques work because I use them! Find out more here.
***Do you already have a manuscript? If you can't afford an editor, you might be interested in Pro Writing Aid Writing Software. This writing software helps you improve your writing to be the best it can be. It's like having your own private editor for a fraction of the price. You can try it for free for 2 weeks. You can click here to learn more about it.