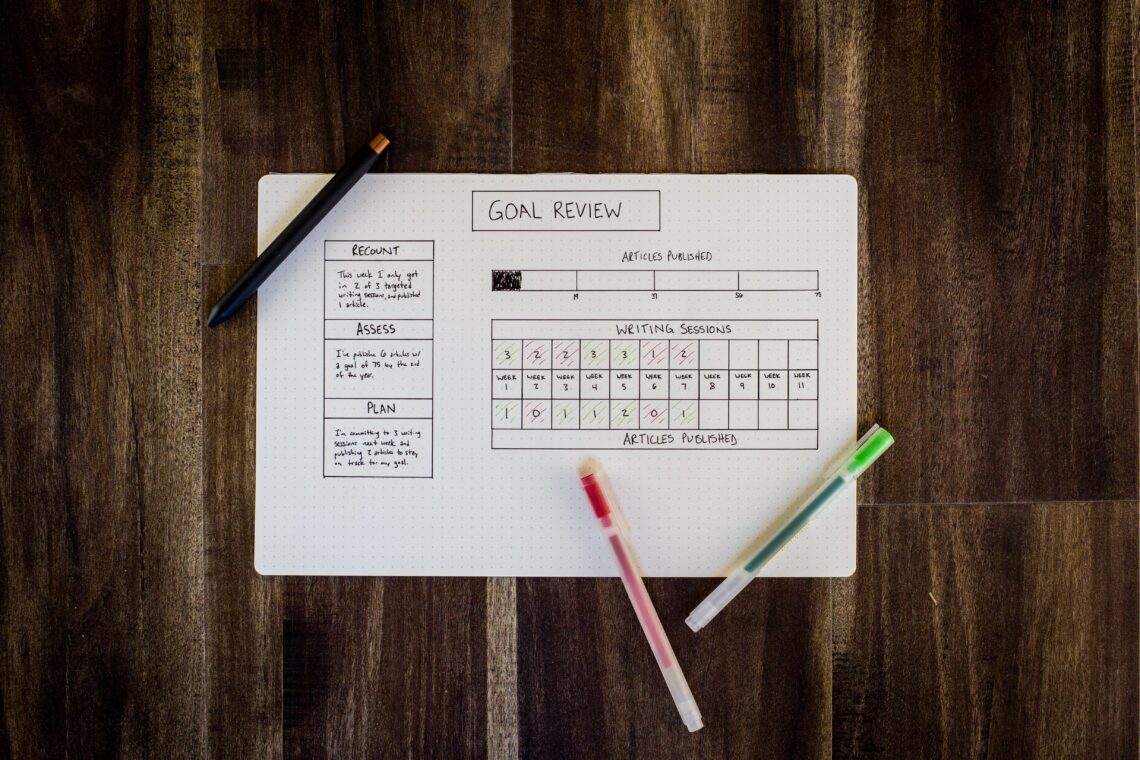 Someone once said, "A goal not written down is merely a wish." I heard this long ago and since then have tried to write down my goals.
At the beginning of each year, I write all the things I'd like to accomplish through the year. Though I don't always accomplish all of those goals, it keeps me more accountable during the year. (You'd think after setting patience as a goal for the last twenty or so years I'd at least be closer on that one).
On a daily basis, I'm a list person. I write a list every day of my to-do items and check them off as I complete them. It helps me at the end of a day of cleaning when I look at my messy house, because I can return to my list and verify that I actually did clean the house (it's amazing how kids can destroy a clean house in the blink of an eye).
Setting goals helps me to focus on what I need to get done. Being able to check off things I've done, helps me feel like I've accomplished something. For me, this is a win-win. I see what needs to be done, I do it, and then I feel good about getting it done.
Of course, life throws a few curve balls (some days it feels like all I do is field curve balls), but consistently setting goals helps keep me grounded.
SMART Goals
You may have read about S.M.A.R.T. goals. If not, here's a synopsis:
Specific: must have very specific criteria. A general goal would be to get in better shape, but a specific goal would be to go to the gym 5 days a week for 30 minutes each day.
Measurable: there has to be a way to measure the goal. In the example above, you can measure your goal of going to the gym 5 days a week. Did you go 5 days or not?
Accountable: letting others know what your goal is. If you tell your best friend you plan to go to the gym 5 days a week, you'll be more likely to actually go to the gym because you feel accountable to your best friend.
Realistic: the goal must be something you can achieve. For example, if you set a goal of exercising for 2 hours a day, is that a realistic, attainable goal? (That would not be a realistic goal for me, but my daughter has set that goal).
Timely: the goal must have a specific time frame. Having "someday" as your goal won't motivate you, but deciding that you need to go to the gym 5 days a week by Jul 1 makes the goal immediate and gives you a timetable.
Does this make sense? Setting goals should motivate you to accomplish things, not discourage you. Using the S.M.A.R.T. formula will help you set goals you can attain.

Writing Goals
Let's look at how we can apply S.M.A.R.T. goals to writing.
Your goal: To write a novel.
Specific goal: Write a romance novel that is 65,000 words.
Measurable: Write every day Monday-Friday.
Accountable: Tell a friend you plan to write a novel and you will be writing every day. Ask your friend to keep you accountable by asking you each day to tell him/her if you wrote (500 words).
Realistic: Write 500 words each day.
Timely: Finish your first draft in _____ days.
Let's do the math: 500 words/day, 5 days a week = 26 weeks. At 500 words a day, it'll take about 6 months to write your first draft. If you want to finish that draft in 3 months, you'll need to write 1000 words a day. 2000 words a day will give you a rough draft in 6 weeks or so. 4000 words a day, 5 days a week, will give you a rough draft in just over 3 weeks.
You have to ask yourself: How long will it take me to write ____ words a day? If it takes you 6 hours to write 4000 words, do you have 6 hours a day, 5 days a week, to devote to writing?
As you set your goals, take into account your time, resources, and skills. I know writers who consistently write 5000+ words a day and consistently write and self-publish a book every month or so. I can't do that. With 10 kids, I just don't have the time to write 5000 words a day and I'm not even sure my brain could be that creative for that long. I tend to hit a wall at 2500 words/day.
Only you can answer how much time each day you can devote to writing, but once you know that and how long it takes you to write X number of words, you can then apply the S.M.A.R.T. system of setting goals

Some of My Goals
With writing, it's important for me to set goals, write them down, and then revisit those goals regularly to see if I've accomplished what I wanted to accomplish. I also have to let my family and friends know what my goals are so 1) I'm accountable and, 2) they respect my time and allow me to write so I can accomplish my goals.
Recently, I've set the goal to write 1000 words each day on my current work-in-progress. Some days I haven't quite reached that goal, but some days I've surpassed it. The most important part is that it keeps me on task and gives me the kick-in-the-butt I need to keep working on my WIP (even when I'd like to hit the delete key for the whole thing).
Some of my goals have included:
Research a job for a secondary character
Create a family tree
Write the timeline for the novel
Interview my main character
Ask "What if?" for a sub-plot
Write a synopsis for the whole story
Write the story goal
Come up with the story-in-a-sentence (20 second elevator pitch)
List complications for my main character
Outline the story
Write a character sketch
Once I set the goal, I then look at how much time I think it will take me to accomplish it and set a completion date. I let my writing partner know my goal is so she can keep me on track. I then work toward my goal.

The Most Important Part
The number of pages set as a goal isn't what's important, it's the setting of the goal. A novel, or short story, is written page-by-page. No one (at least no one I know) sits down and writes a 60,000 word novel all in one day. It happens bit-by-bit, piece-by-piece. Setting realistic, smaller goals each day will help us to reach the major goal.
Don't be intimidated by others' goals. I know writers who write 100 words a day and others who write 5000. You need to set goals that you can attain so you'll feel successful.
Don't just wish to write a novel, make it a reality by setting goals to accomplish it. You may be surprised at what happens!
Have you set goals? Did you accomplish them? Why or why not? Take action today to set a S.M.A.R.T. goal and let me know how it goes. If you're really brave, post your goal in the comment section below.
To your success in writing!
***Have you received my FREE course: Become an Idea Factory? You can click here to learn more about it. It's a 7-day course delivered right to your inbox that helps you learn how to generate ideas. I know these techniques work because I use them! Find out more here.
***Do you already have a manuscript? If you can't afford an editor, you might be interested in Pro Writing Aid Writing Software. This writing software helps you improve your writing to be the best it can be. It's like having your own private editor for a fraction of the price. You can try it for free for 2 weeks. You can click here to learn more about it.